Graphic designer from Pittsburgh, PA.
Website: http://Shane.HendersonGDI.com
Name in game: Eldurango.
Tutorial for creating full card images:
Edit
1. Take screenshot of the top of the card.
2. Take screenshot of the bottom of the card.
3. Combine both images in an image editor, being sure to match the pixels exactly.
4. Crop image down to borders of card. Final image size should be 640x852 pixels.
Example: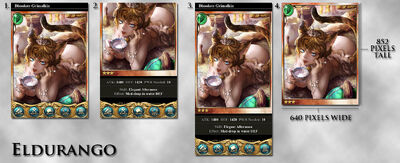 Community content is available under
CC-BY-SA
unless otherwise noted.