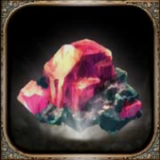 Crystal Exchange is a special campaign that allows players to trade in Crystals on various items. It is available only from the start of Raid Event to the end of the month. All Crystals must be used in that time or they will disappear. Players are rewarded Crystals for defeating Raid Bossess.
15 Crystals per normal Boss: 6 for Discovering, 2 for Participation and 7 for Finishing
25 Crystals per Hidden Boss: 12 for Discovering, 3 for Participation and 10 for Finishing

From July 2017 on: 16 for Discovering, 6 for Participation and 20 for Finishing

40 Crystals per Secret Boss: 20 for Discovering, 4 for Participation and 16 for Finishing

From July 2017 on: 30 for Discovering, 10 for Participation and 40 for Finishing
Exchange Details
Edit
Checked items will appear on the list at the bottom of the page.
Purchased items will be sent to your Presents List.
You can have up to 99,999,999 Crystals in your possession.
All Crystals in your possession will disappear past the indicated time.
Former Rewards
Edit
Reward
Name
QTY
Cost
Limit
Special Exchange Ticket
1
45,000


35,000
22,000

1
14-PWR & Up UR Ticket
1
4,000
1
UR Guaranteed Ticket
1
3,000
1
50% UR Ticket
1
1,500
2
10% UR Ticket
1
450

300

3

10
Community content is available under
CC-BY-SA
unless otherwise noted.