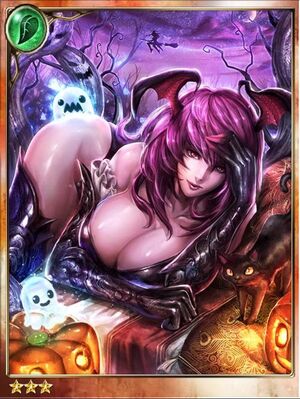 Lore
Smiles are seldom with this queen of the underworld. There's something about Halloween that brings one out of her. "It would be a waste not to have a little fun on this night. Why don't we go together?" She says to her dark companions.
Stats
ELEMENT: Forest
RARITY: Rare
ATK: 1730
DEF: 1170
Maximum ATK: 5390
Maximum DEF: 8050
Maximum Level: 40
ATK increase per level: ???
DEF increase per level: ???
PWR NEEDED: 10
SKILL: As You Like It
SALES PRICE: 3000 Coins
EVOLVES to: ???
Trivia
This card was released as part of the Halloween Parade Series.
Is a redesign of a previous Battle Royal card Captivating Allatu
The witch flying in the background appears to be Black Witch of Sabato